Achieve Incredible Results In Our Compelling Semi-Private Personal Training!
If you're not getting the results you hoped for from your current training program, it's time to think about a change. Our Semi-Private Personal Training will help you take your workouts to the next level with a unique approach and constant support from a trained professional.
Our Semi-Private Personal Training in Naperville is helping men and women of all ages and fitness levels see real, long-lasting results. You could be next.
Our Semi-Private Personal Training Can Help You Accomplish Any Goal
Whether you're returning from an injury, preparing for an upcoming season, or just looking to get back into an active lifestyle, we have what you're looking for.
Our team of expert coaches take the time to understand your goals and priorities. Then we work together on a path to effective and efficient training that will help you see results in no time.
On top of that, it's also cost effective as you'll be splitting the cost of a normal personal training session with others!
With our Semi-Private Personal Training in Naperville, you'll enjoy:
Energetic and exciting workouts guaranteed to get your results
Accountability from our expert coaches and fellow members
More motivation than ever before
A direct path to success that is easy to follow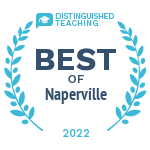 See Results Like Never Before With Our Semi-Private Personal Training
If you are ready to rise up and challenge yourself, then our small group sessions are for you. You will be tested and pushed to the limits in these exciting new programs.

With our Semi-Private Personal Training in Naperville, our instructors work tirelessly to customize your approach, helping you train areas of your body where you want to see results, without wasting time on movements that simply don't apply to you.
After just a few weeks, you'll enjoy benefits like:
Lean, toned muscles across your entire body
Boosted cardiovascular endurance
Improved energy levels in your everyday life
Newfound self-confidence in everything you do
Get Started Today With The Best Semi-Private Personal Training In Naperville
Don't waste another day spinning your wheels. See real results today at Beyond Measure Fitness Training. We're proud to help everyone in Naperville, Warrenville and beyond get fit and enjoy a healthier lifestyle.
To get started, all you have to do is fill out the short form on your screen now. We'll reach out right away to answer all of your questions and get you all set up.